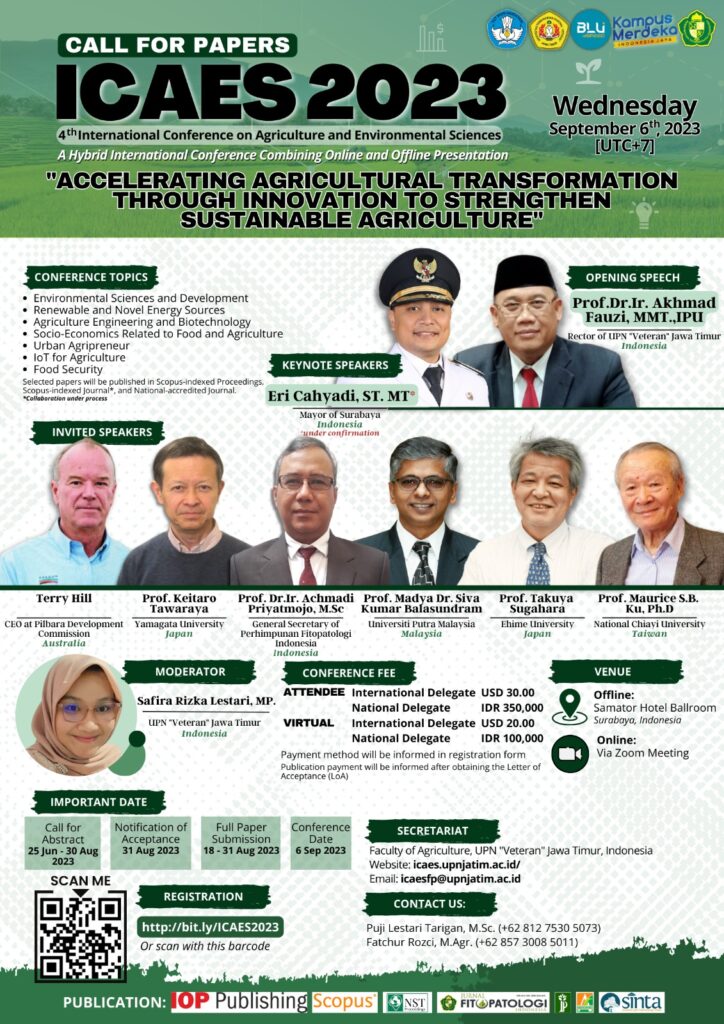 Dear Colleagues,
We are pleased to invite you to participate in the 4th International Conference on Agriculture and Environmental Sciences (ICAES) to be held on September, 6th 2023 (Hybrid). This conference was hosted by the Faculty of Agriculture, Universitas Pembangunan Nasional "Veteran" Jawa Timur.
Call for Papers
Participants with papers are requested to send the abstract at the latest August 30th, 2023.
The paper will mainly be published in:
• IOP Conference Series: Earth and Environmental Science Proceeding [Scopus indexed]
(https://iopscience.iop.org/journal/1755-1315)
Selected papers will be published in:
• Nusantara Science and Technology (NST) International Proceedings
(https://nstproceeding.com/index.php/nuscientech)
• Jurnal Fitopatologi Indonesia (JFI) [SINTA-2]
(https://journal.ipb.ac.id/index.php/jfiti/index)
• Jurnal Ilmu Pertanian (JIP) [SINTA-2]
(https://jurnal.ugm.ac.id/jip)
• Jurnal Agrisocionomics [SINTA-2]
(https://ejournal2.undip.ac.id/index.php/agrisocionomics)
Registration link:
http://bit.ly/ICAES2023
If require for the further information, please contact us:
-Tari : (+62) 812 7530 5073
-Rozci : (+62) 857 3008 5011
-E-mail : icaesfp@upnjatim.ac.id
-Web : http://icaes.upnjatim.ac.id/
It would be very appreciated if you could share this information with your colleagues.
Thank you!
Sincerely,
The 4th ICAES Committee